How To Be Stylish And Comfortable This Christmas.
If you're going to be at homethis Christmas, with just your household, you are probably going to have a much more comfy Christmas…maybe even a PJ Christmas!
However, we can still wear our pj's in a way that means we don't have to worry if there is an unexpected knock on the front door.
You can also make sure that even if you are wearing your pj's, you will still look good for the family zoom to wish each other a happy Christmas.
I have put together five ways that we can style our pj's so that we don't look like we have literally just got out of bed, but we can still be comfortable and ready for settling down in front of a Christmassy movie in the afternoon.
There are some very lovely, very traditional pyjamas in the shops right now, that will cover all bases…stylish, comfortable and with a touch of old fashioned glamour!
Try button fronted, silky, piped pyjama tops with matching bottoms.  These can look very glamorous and won't end up with that stretched out of shape look that some pj's can take on after you've been sitting down in them.
Or you can try the traditional striped pyjamas.  These are often made of a lovely soft brushed cotton so are very nice to wear.
And then of course there are the tartan or checked pyjamas.  Some of these even have a metallic thread running through them to give them a little extra something.  I particularly love these red checked pj's as they are very Christmassy as well as looking very cosy.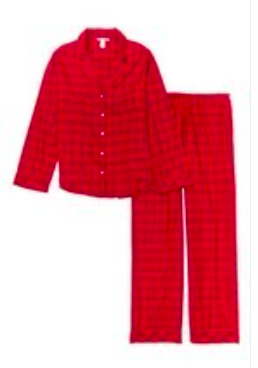 These are great fun and quite a new idea for this season!  If you have younger children they will absolutely love matching with Mummy and Daddy!  And the look will definitely make an impact on your family zoom times!
Some of these are just a lovely fun design and others have a slightly different slogan for each member of the family, which I think makes them a lot of fun!
Definitely a great way to make your day feel a real family affair.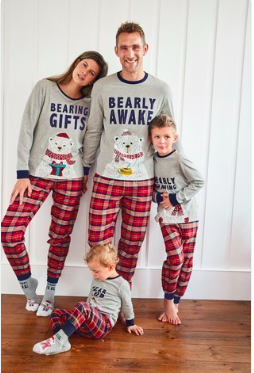 3. PJ Bottoms With A Comfy Top
This is probably my favourite look…a kind of hybrid between full on pj's and trackies or a yoga outfit.
Pair some traditional pyjama bottoms with a comfy or slouchy top.
This is even better for your family zooms as they probably won't even know you're in your pj's!
In my opinion, the more traditional the bottoms, the better this look works.  A lot of stores sell their pj's as separates so you can pick and choose to suit the look you want to achieve.
I would make sure your colours work well together so that you feel dressed, but any top or jumper can work well for this look.
For me this look works really well, because although I'd be happy to have a real PJ day, I couldn't do it very often.  But with the hybrid look I would be quite happy to wear my PJ bottoms whenever I'm not going out over the holiday break.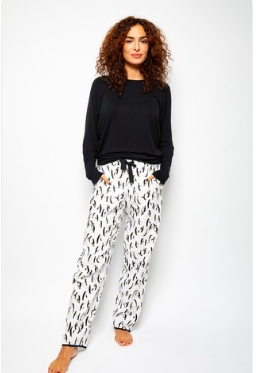 This is a slightly different take on pyjamas, but one that is much more like being dressed but still really comfortable.
So if the idea of staying in your pyjamas for a whole day is a little too much for you, loungewear is definitely going to tick the boxes for you.
Loungewear is usually a neutral colour and a soft fabric matching top and bottom.  It can come in very luxurious fabrics such as cashmere or silk, for a very decadent feel.
Having said it is usually matching, it doesn't have to be.  So have some fun and mix up your tops and bottoms for some different looks.
There is even loungewear in animal print in some stores which adds a touch of glamour to the look.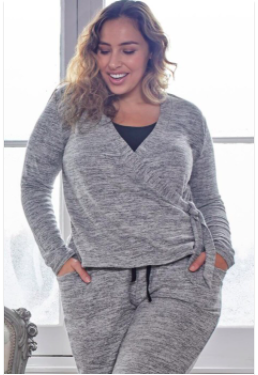 If you really want to go all out for the ultimate in luxurious pyjamas, then you could go for either silk or cashmere.
These would both give you that really decadent feeling that says comfortable days in by the fire, and be the ultimate indulgence.
They obviously come with a high price tag as well, so they are not for everybody.  But it is Christmas so why not spoil yourself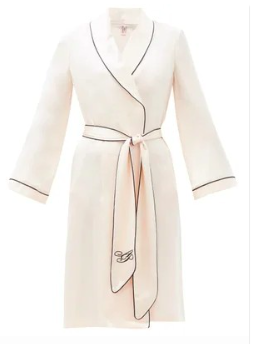 Couldn't Be Cosier vs Couldn't Be Bothered
There are a couple of things you can do that will make all the difference to you feeling like you just didn't bother, and feeling like you are treating yourself to a lovely indulgent day:
When you get up, get showered and put on fresh pj's, rather than just staying in your nightwear.
If you prefer to wear make-up, then still put some on. Maybe not as much as usual, but it's good to feel like there is a distinction between night and day.
Put a little jewellery on, even just a pair of simple stud earrings or a watch. Just something that you wouldn't wear at night.
Decide in advance how you would like to spend your day, so that it feels like a day you've treated yourself to, rather than that you just couldn't be bothered to get dressed.
Make your favourite hot drink and enjoy whatever you have planned for your lovely day of rest.
Click the button below to see a selection of some of the best pyjamas in the stores right now.  Most of them are still available for delivery before Christmas!
And lastly, although this is going to be a slightly different Christmas, I hope you enjoy the time you spend with family and the break from the craziness of this year.
Until next time…