As we come out the other side of the pandemic…hopefully…and settle into a new working normal, it seems that virtual meetings are here to stay.
When the pandemic first hit, two years ago, virtual meetings became vitally important in order to keep up with business associates, but also to maintain social contact with people.
I don't know about you, but I assumed we would go back to "normal" when we came out the other side.  But it seems to me that some sort of hybrid working has now become the norm.
Lots of companies haven't completely gone back to office working, and are now operating a system where people are working from home 2-3 days per week, and in the office the other days.
So looking good on video is going to continue to be important for those virtual meetings and trainings.
But what are the best styles of top to wear for virtual meetings, to look good and feel confident every time you are visible?
In this article, I am going to go through my top five ways to style your tops to ensure you always not only look good on video but also feel confident.
Blocks of colour look much better than pattern on video.
We only see people in a small square on video, so plain colours are so much better than too much pattern.
Also, a lot of people stick to very neutral colours when they are on video calls.  So wearing a splash of colour will ensure you stand out in amongst the sea of dark navy and grey.
To find out the colours that have the most impact in business, read my blog post here.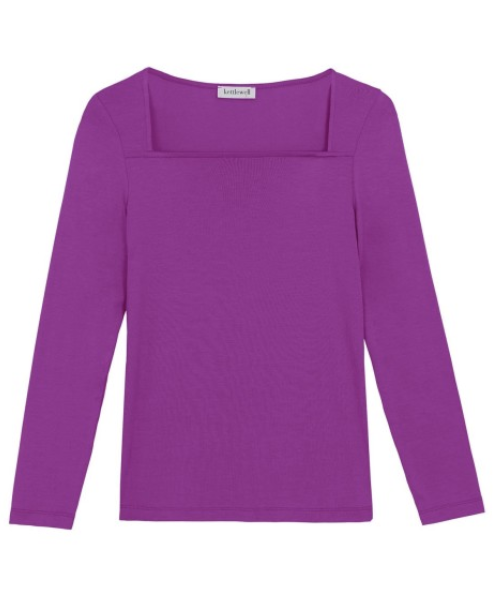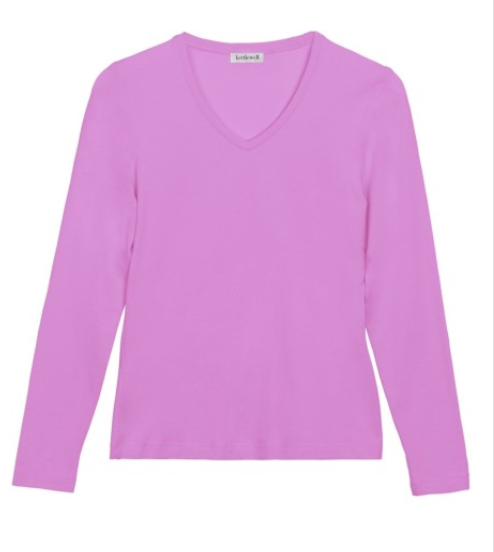 Stripes can do very strange things on a video screen!   They can create a weird Moire pattern, which makes it look like two patterns are competing with each other for visual dominance.
This will be very distracting for the person on the other side of the screen, as they will be concentrating on what's going on with your top, rather than the subject matter of the meeting.
So it's always best to keep your stripey tops for face-to-face events.
3. Wear A Neckline That's Flattering On Your Face.
The best neckline to wear on video is one that is flattering to the shape of your face.
Generally speaking with Styling, we are trying to create balance with the clever use of clothing, so wear a neckline that is opposite to the shape of your face.
For instance, if you have a round face, you will look better in a top with an angular neckline, like a square neck or a V-neck.  If you have a square face shape, you will look better in a round-neck top.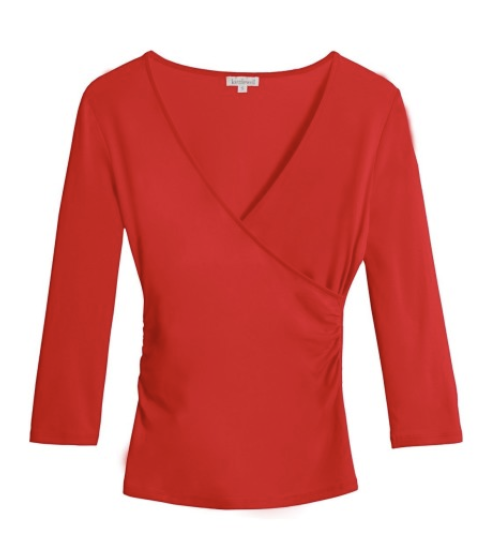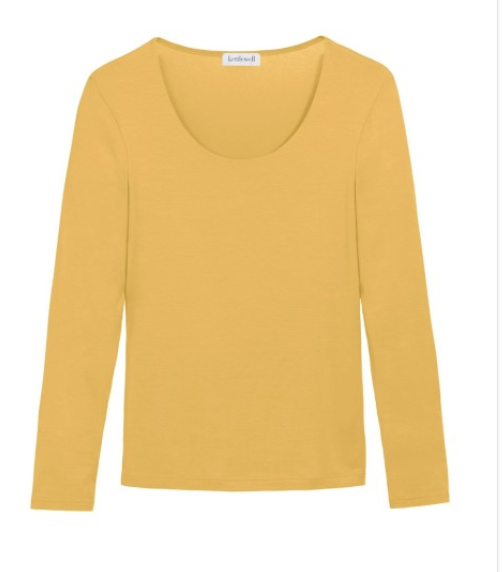 I know it might seem a bit OTT to wear a Jacket when you are just at home, but it can make such a difference to how you are perceived by other people in the meeting.
There is a saying that I love, "Dress for where you want to be, not where you are now".  A Jacket will definitely elevate your look and add that professional touch to any virtual meeting you attend.
Now of course, there are some exceptions to this.  If it's a working meeting with colleagues, you won't need to wear a Jacket.   But for any meetings where you want to make a good impression, a Jacket will definitely elevate your status in the eyes of others in the meeting.
It also doesn't have to be a typical black or navy tailored Jacket.  But a jacket is a winner every time, even if it's a more casual style.  The only thing I would completely avoid is a denim jacket, as this is just too casual for business.
But other than that, have fun with the creative use of Jackets for your virtual meetings.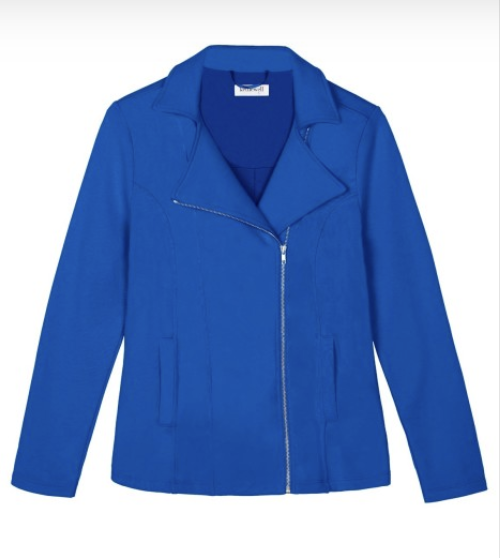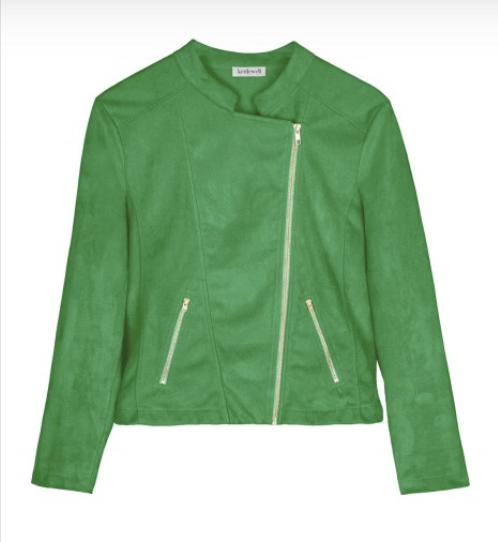 5. Make Use Of Accessories
Accessories can be very useful when you are dressing for video.
They make you look finished and well put together.
One of the biggest problems with dressing for video is dressing in a way that looks professional and that you are ready for work.  Accessories will really help with this as you will look like you've made an effort and are looking polished and professional.
Accessories can be used to accentuate your look.
One of the things that can happen on video is that you can look much more "busty" than you really are!
A great way to stop this is to wear a long necklace that falls down the middle of your top.  This will have the effect of separating your bust and will help to avoid that "busty bertha" look!
You can also use necklaces to enhance the shape of your neckline.  For instance, if you are wearing a cowl neck, or a turtle neck, wearing a short necklace that mimics the shape of the neckline can be very flattering.
Earrings can be used to give balance to your face shape, in the same way as necklines.
So again using our example of a round face shape, you could wear some angular earrings, such as square or triangular.
Scarves can also be worn to add colour to your look or to enhance your top.
However, be careful not to wear too thick and bulky a scarf.  You've only got a small window for people to see you on video, so if you are swamped with too much scarf it can look like you are disappearing under all that fabric!
Much better to wear a thinner scarf or a much lighter-weight fabric, as then the scarf will add to your outfit rather than swamp you.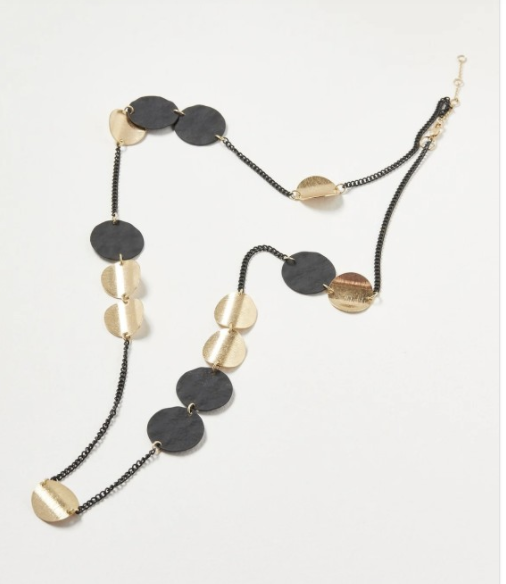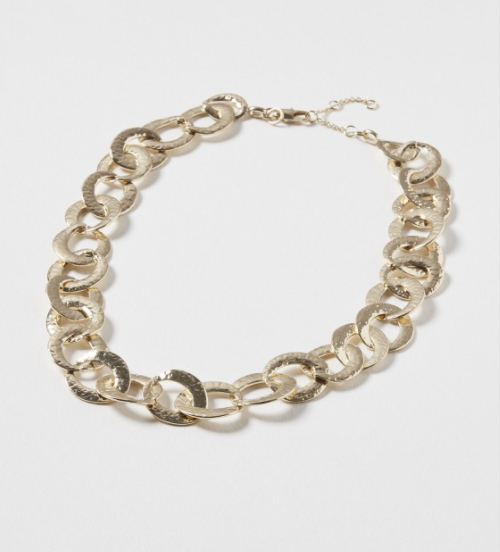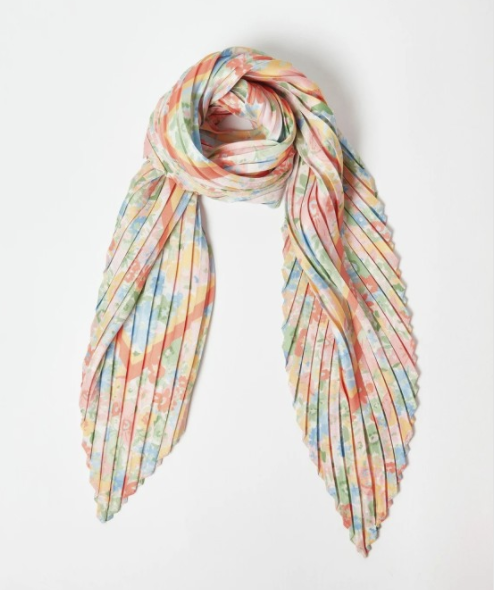 If you would like somebody to sort all of this out for you, and leave you feeling calm and prepared every time you have a virtual meeting to attend, my Dream Wardrobe For Video service, might be ideal for you.
In this service, I will create for you 25+ looks that you know will always look great for you, will show off your personality and will represent your business really well.
To find out if this could be right for you, book a call with me here and we can chat about your individual needs.
To view a small selection of my favourite tops for video, click the link below: