How To Sparkle This New Year, However You Celebrate
Most of us are likely to be staying in this New Years Eve, but that doesn't mean we can't get dressed up.
In fact, a lot of us are going to be pleased to see the back of 2020, so we might want to celebrate in style.
And that means Sparkles!
What better way to celebrate the end of the year, and the hope and possibility that comes with a brand New Year, than a little bit of sparkle?
That doesn't mean you have to get dressed up if you don't want to.  You can be as smart or as casual as you like, and still add a little bit of sparkle to your outfit.
Here are my top suggestions for how to add some sparkle and shine to any outfit.
There are two main types of sparkle used to decorate clothing…glitter or sequins.  So what's the difference?
Glitter is quite a subtle look, just giving a sprinkling of glitter usually in an overall effect on a fabric.  
This is a great look, if you like a bit of sparkle but you don't want it to be too obvious.
Sequins on the other hand are much more obvious and very shiny.  They can be used just in a small amount, perhaps for a pattern or even to give a picture on an item of clothing.  Or they can be all over a garment giving a very high shine to the whole look.
If you're looking forward to a cosy evening in, maybe watching a movie or playing games with the family, you may want to keep your look nice and casual.
Maybe you want to wear your pj's, but still fancy a bit of sparkle?
If so, you might want to try a cosy sweater with a bit of sparkle on it.
There are so many lovely designs to choose from, from sweat tops with a sequin design on them, such as this top with sequin lips, through to a cosy sweater with sparkly stars all over it.
You can still wear your pyjama bottoms if you want to, but add a touch of glamour with a sparkly top. That way you'll still be in a celebratory mood, but lovely and comfy with it.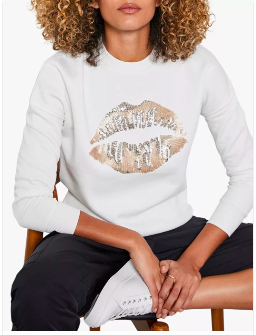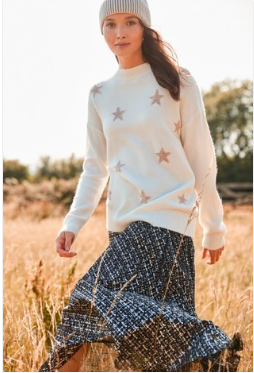 Staying in doesn't have to mean staying casual.  Why not get dressed up for your evening in?
We had a very quiet Christmas this year, as did most of us, but we still dressed up for the day.  And I have to say, it felt really nice to get dressed up and make the day feel special.
So why not do the same for New Years Eve?
If you do want to go the whole hog, there are a number of ways to achieve that dressed up, glam feeling:
Wear A Dress
A sparkly dress is the ultimate way to feel glammed up!  You can go for the full maxi dress, or a shorter dress, but either will get you in the mood for celebrating.
Wearing a dress can still be very comfortable, which is important especially if you're planning on enjoying a lovely meal as part of your evening.  Just make sure the dress isn't fitted too tightly on the waist!
A Sequin Skirt
This is the ultimate in sophisticated glamour!  A sequin skirt will make you feel amazing.  As you move it swooshes and shines and will make you feel incredibly feminine!
There are lots of options for styling your sequin skirt.  To see some options for how I style my sequin skirt, go to my instagram account here and look for the reel of me beside my Christmas tree.
Sparkly Trousers
There are some great, fun and sparkly trousers around at the moment, that would look absolutely amazing if you are planning on doing any dancing!  All those sparkles glistening in the light!  Fabulous!
You have so many choices for styling your sparkly trousers.  You could put them with a sparkly top if you want to go full on sparkly, or keep it a bit more simple with a plain top that allows the trousers to shine!
If you fancy the sparkly trousers but would like to keep it more casual, try these sparkly leggings with a cosy sweater, for a comfortable yet still special look.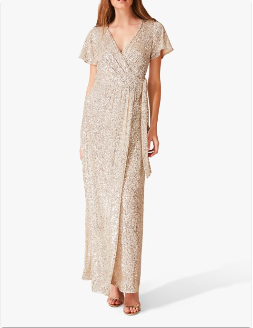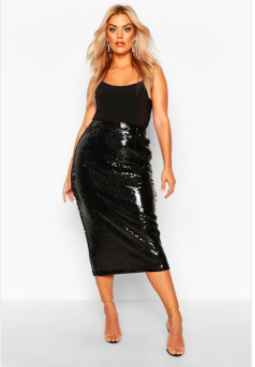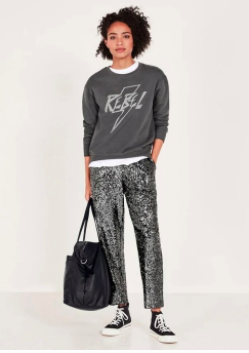 It may be that you're just not in the mood for dressing up, but you do fancy just a hint of sparkle to mark the fact that it is New Years Eve.
So how about just a sparkly accessory instead of the whole outfit?
You could wear some glittery tights with a plain dress, or a sparkly scarf to keep you cosy.
If it's all just too much and you're definitely planning on pj's for the whole evening, then how about finishing off your outfit with some glittery slippers?  I love these and I would be very happy to wear them all round as they would make me smile every time I look at them!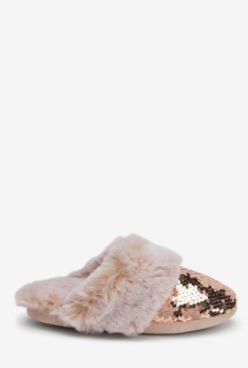 We're all used to dressing the top half for Zoom and keeping it comfy on the bottom, when we're working.  Well the same can apply to our family Zooms!
You may be talking to family via zoom this year, to celebrate the fact that 2020 is over and to wish each other all the best for 2021.
So how do you manage to look good for the Zoom but comfortable for the rest of your evening?
Well pj bottoms and a sparkly top would be my best suggestion!
Go all out on the top, a sparkly sweater, and a sparkly scarf!  You can even add some sparkly earrings.  Then stick to your pj bottoms and fluffy socks for comfort and cosiness on the unseen bottom half!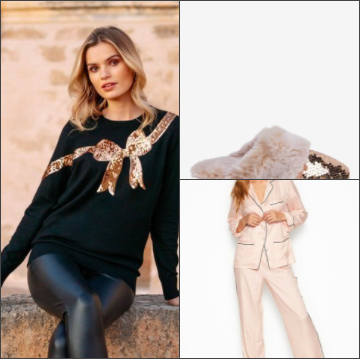 So which will you choose for your New Years Eve celebrations this year?  Do leave me a comment as I'd love to know.
If you'd like to see some of my best picks of the sparkly items available in the shops right now, click the button below to be taken to the catalog:
Whatever you decide to wear and whatever you decide to do, I wish you the happiest New Years Eve, and all my very best for a happy, healthy and prosperous 2021.