The Epitome of the Female Form
The Hourglass figure has epitomised the female form and been the subject of artists for centuries!
The Hourglass is curvy and feminine, with larger breasts and hips and a small waistline, which often falls naturally higher than the usual female waistline.
In this blog post I am going to share with you the best shapes of the most common garments to make the most of your assets, and disguise your less liked areas!
If you are not sure which body shape you are, click the button below to go through my body shape guide first, to make sure you are getting the correct information for you.

The Best Shapes For An Hourglass
Most ladies with an Hourglass figure, don't feel great about it, even though it is the shape that has been the envy of women throughout the ages.  Most cool and trendy clothing these days is made for the waif-like models seen on the catwalks, not the shapely hourglass figure.
You probably bloomed early, which would have made you the subject of childish comments and sniggering from boys.  So this will also have shaped the way you feel about your body now. You may even have ended up feeling ashamed of your body and wanting to hide it as much as possible.
But your hourglass figure is a wonderful shape and something to be proud of.  Showing it off and making the most of it will actually make you feel better about it than hiding it.  You have a very feminine shape and with the right clothing we can help you feel curvaceous and womanly!
Simple clean lines will look amazing on you, as will soft tailoring.  
The biggest thing we need to encourage you to do is to show off your beautifully defined waistline.  Boxy or shapeless clothing will unfortunately just make you look big all over, so we want to get you wearing styles that show off your gorgeous curves.
So let's get down to the specifics.
It is absolutely vital that we get your foundations right.  A good, well-fitting and supportive bra underneath your outfit can transform your overall look.
With your generous bust, and natural waistline being slightly higher than usual, we need to ensure your bust is completely separated from your waistline.  We need to ensure you have as much definition as possible for your shapely waistline, and it is not hidden under your bust.
You may also like to try some supportive briefs, that will make the most of your shape and hide any lumps and bumps that you don't like.  Whilst not the most attractive garments ever made, they will definitely help you feel much more confident in your outer clothing and nobody needs to know you have your massive Bridget Jones pants on!
Single breasted jackets and coats will suit you better than double breasted.  Double breasted tends to make the bust look larger, which is probably not what you want! 
Ideally your single breasted jacket should close with one or two buttons on your waistline, as this will emphasise your shapely waist.
If you chose to wear a longer coat or jacket, it will need to fit at the waist and then flare out over your hips to emphasise the beautiful shaping you have.
Pockets on your hips will emphasise a cinched in waist even more and so accentuate your beautiful shape.
If you like your soft, curvy shape and want to emphasise it even more, go for pockets and lapels with soft curved edges rather than angular shapes.  This will add to your soft, feminine silhouette.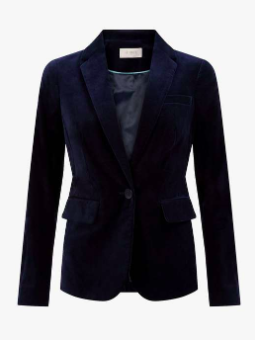 The most important thing with any tops you wear, is that they are fitted around the bust and come in again at the waist.  Boxy or straight cut clothing will hide your beautiful shape and make you look big all over.
Also blouses with bows or flounces of any sort will add extra weight and volume around your bust, which is not needed.
So plain styles, without too much detailing and fitted well will look great on you.
Necklines should be lower, so v-neck or a wrap style will be very flattering.  High necks will unfortunately have the effect of making you look like you're all bust, whereas a lower neckline will separate the bust and therefore make it appear less bulky.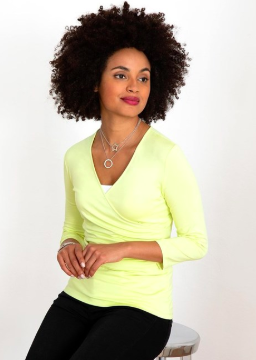 Your dresses will always need to be defined at the waist.  The most unflattering shape you can wear is a straight shift or shirt dress with no shaping at all.
You can even go as far as corset styles or body con dresses.  If you like the look of these, more on this when you take my Style Personality Quiz
The neckline on any dress you choose will need to be low to separate your bust and flatter your décolleté.
Semi-fitted, wrap and belted styles will all look fab on your well proportioned figure, and anything lycra or jersey will move with your curves and ensure a fab fit.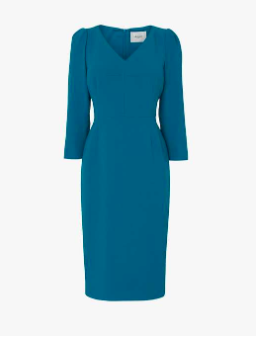 For your hourglass body shape, the pencil skirt is your best friend, especially if it contains some lycra.  This shape will fit your figure well and show off your curves and shapely legs.
Other styles that will work extremely well are A-line, and wrap styles.  However, they must always be flat fronted so as not to add any unwanted bulk to your tummy area.
Any waist defining styles will look good, including belted styles.
Your skirts should never be longer than knee length.  Floor length dresses and skirts are the exception to this rule as they will always work for evening wear.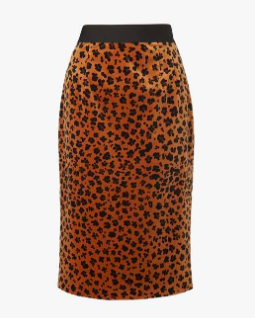 You have probably found that trousers tend to make you feel fat and frumpy.  There are a few styles that will work and make you look shapely instead.
These tend to be flat fronted and drapey.  These styles will skim over your waist and hips and give a very flattering silhouette.
Avoid side pockets on trousers as these will add extra bulk where you don't want it.
Wide leg styles will also look great as they will balance with your hip and bust proportions.
Trousers should always fit perfectly around your waist and hips to be the most flattering for you, and flat fronted with little or no detailing around your waist and hips.
Skinny jeans are not your best friend unfortunately as the skinny ankles will emphasise the curvy hips and bottom of your hourglass shape.  You may like this and if so that's fantastic and you should go for it! If however, you like skinny jeans but don't want to emphasise your curves, then wear knee length boots over your jeans as these will balance your overall look.
If you want to wear jeans or trousers made from stiffer fabrics, then tailored flat fronted styles with a straight leg are your best bet.
Boyfriend jeans will also not be flattering on you as they will add weight around your bottom making you appear dumpy and heavy.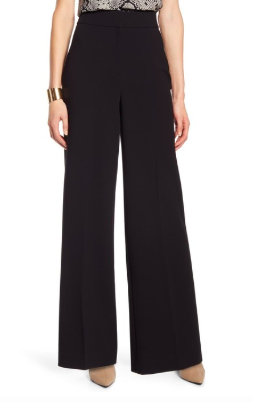 Curvy girls need curvy shoes!  Wedges or platform heels with a round or peep toe will look amazing on you.
Bows on the toes will be the icing on the cake and be very flattering for you!
An hourglass doesn't need too much in the way of accessories, especially around the neck and décolleté.  However a long line necklace is a great way of separating the bust and drawing the eye down, so have fun with some longer necklaces.
Likewise scarves can be used in the same way.  Make sure scarves are in a soft floaty fabric and not too bulky and wear them long so they separate your bust.
Colour, Pattern & Fabrics
You don't want to swamp your gorgeous hourglass shape, so keep patterns small or medium, and all over a garment rather that just one area.
An all over pattern that is not too big, will highlight the amazing proportions you have as an hourglass.
Fabrics should be soft and drapey to move beautifully with your shape.  Fabrics with some added lycra are great for you as they will show off your curves and ensure a great fit.
Hopefully that will help you dress your gorgeous hourglass shape in a way that is flattering and shows off your beautiful feminine curves.
Did anything surprise you?   Will reading this blog post make you change the way you wear your clothing?
I've created a catalogue for you with some of the current styles of clothing that will work well for you.  Click the button below to see all of the Hourglass body shape styles: