Definition of the Strawberry Body Shape
The Strawberry body shape is defined by a large bust, little or no definition at the waist and slim hips.
The round shoulders of the Strawberry shape align with her hips and long, slender legs.
The Best Shapes For A Strawberry
If you don't know for sure that you are a Strawberry Body Shape, click here for my Go To Guide To Finding Your Body Shape first, so you can make sure you are getting the right information for you.

If you are a Strawberry body shape you may like your bust and want to show it off, which is amazing!  But for a lot of Strawberry women, they do not like their larger bust and aim to hide it under baggy clothing.  Unfortunately without realising it, this may have the effect of making you look large all over, which is probably not what you want.
With the clever use of clothing, we can define your shape and show off you fabulous legs!
By choosing the right shape of clothing, and making sure it fits well, we can bring definition and balance to your Strawberry Shape.
So let's look at the details that will help you look and feel amazing!
As with all of the body shapes, making sure you have the right foundations is the first and most important step.
A good, supportive bra that fits perfectly can revolutionise the way you feel in your clothes!
The most important thing is that your bra lifts your bust and separates it from your waistline.   We want you to feel amazing so make sure that bust is lifted up where it should be.
Being measured and fitted properly is the best way to make sure of this.  Even if you have been measured in the past, it is a good practice to be re-measured at least once a year, to make sure everything sits exactly where it is supposed to, and your bust is supported in the best way possible.
The most important thing for you in any Jacket or Coat you choose is that it comes in under your bust to give that definition to your shape.  
Single breasted styles will also be better for you than double breasted, and look out for styles that have their buttons or fastenings just under your bust to highlight your waistline.
Fitted styles with a neat waistline will give you the highly desirable hourglass look to your figure.  Boxy styles with no definition on the waistline will not work well for you, so choose fitted styles whenever you can.
Longer coats and jackets should also come in under the bust.  They should have the waistline cinched in either by the shaping of the jacket or with a belt.
A slightly A-line skirt will balance out your look and be very flattering.
To lessen the size of your bust, your tops and tees should all have a wide open neckline, like a scoop or open v-neck.  The most flattering neckline is a cross over top as this will lengthen and separate your bust line. High necklines and polo necks will accentuate your bust so wear these styles if you are happy showing off your bust.
Empire lines, so tops that come in just under the bust, will be very flattering as they will pull you in at your narrowest part and define your shape well.  Anything with a smock top, chunky top or shapeless styles will look a lot less flattering than an empire line so these are best avoided.
An empire line top that also flares out slightly to skim over your tummy will give you the most flattering silhouette.  Looser tops in floaty fabrics will be more flattering on you than anything too tight on your top half.
It is quite likely that your bra will have wider straps than usual in order to give you the support you need.  So look for wider straps on your tops that completely cover your bra straps. Often ladies with a larger bust want to make sure none of their bra is showing, so this will ensure it is all hidden.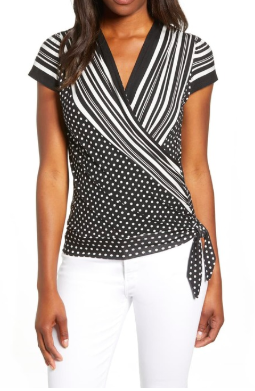 Dresses with some structure will work well for you as they will hold everything in the right place and be very flattering.  A dress that has some added lycra will be even better as this will move well with your body movement and not look too stiff and uncomfortable.
As with your tops, necklines should ideally be open with either a v-neckline or a scoop.  These will separate and flatter your bust line.
An empire line again will work well for you, as it will accentuate the narrowest part of your torso and give you a very shapely silhouette.
As with your coats, the skirt of your dresses should be slightly A-line to balance with your top half.
You may want to keep your upper arms covered, so opt for dresses with some sort of sleeve.  Make sure the sleeve is a loose fit so as not to draw attention to your upper arms.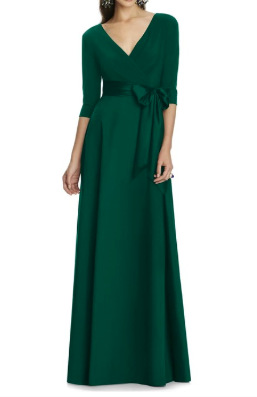 Skirts should be slightly A-line or wider in shape.  Again this will balance well with your top half.
A fluted hemline will be particularly flattering as it will show off your very shapely legs.
A low waistband on your skirt will lengthen your torso and give more shape and balance to your overall look.
A Tulip shape skirt will work really well for you as it will be the perfect way to create balance with your fuller bust and slim hips.
You want to show off your best assets, your legs, so keep hemlines to knee length at the longest.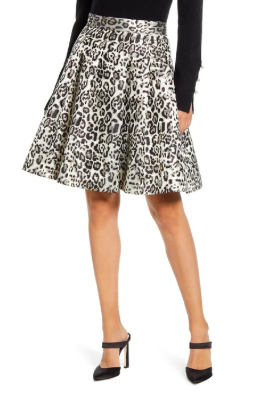 To create balance with your fuller bust, your best trousers will be wide legged or boot leg.  The other benefit of the wider leg trouser is that they will also add some curve around the hips and legs.
Slim leg or boot leg trousers or jeans will show off your long legs. Choosing trousers that are also lower on the waist will create some definition between your waist and your bust lines.
Always wear a longer line top or tunic that sits around hip length in order to flatter your tummy area.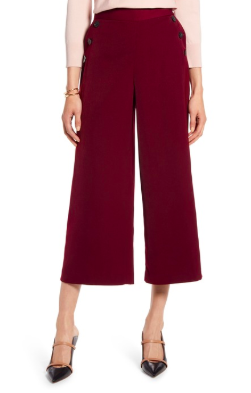 You already have lovely shapely legs, so most shoes will look good on you.  
Wearing heels will further accentuate your long legs, which will be very flattering.
Chunkier heels or block heels will look better for you than a thin heel as it will better balance with your top half.
A curvy heel will compliment your shapely legs.
In order to draw the focus of attention above your bust line, make sure you wear necklaces higher up your neck.  Also keep your earrings reasonably short.
Neat necklace styles that sit close to your collar bone will be your best friend.
Scarves will look good as long as they sit close to your face and aren't  too big and chunky.
Colour, Pattern & Fabrics
Medium sized prints and patterns will be the most flattering on the fuller bust of your Strawberry shape.
Vertical stripes above your waistline will lengthen your upper body.
With all of your clothing items, it is always wise to employ a seamstress to make sure things fit you well.  You will be better off buying a slightly bigger size to fit well over your bust and having it taken in around the waist and hips.
So there you have a full run down of the best shapes of each of the most common types of clothing to suit your Strawberry Shape.
Was there anything there that surprised you or you hadn't heard of before?  Is there anything you will do differently as a result of reading this blog post?  Do you think these suggestions will give you more confidence in your body shape?
I've created a catalogue for you with some of the current styles of clothing that will work well for you.  Click the button below to see all of the Strawberry body shape styles: