What shape Jeans should I wear for my body shape?
Jeans are one of the most commonly worn garments amongst women and men.  But I think they are one of the hardest garments to find the right fit, especially for us women!
You may well be sitting there now, nodding your head, because I think most women secretly struggle with this.
So in this blog I am going to look at the best shape jeans for each of the body shapes, and at the bottom of the blog there is a link to a Lookbook with some suggestions for each of the body shapes.
If you don't yet know your body shape, use my Go To Guide To Find Your Body Shape first so you can make the most out of this blog info.  You can find the guide here:
There are so many choices in jeans now, that it is not surprising we find it confusing:  straight, bootleg, skinny, super skinny, high waist, mid-rise….the list goes on!  And that's before we even get to thinking about different brands.
I'm going to simplify it for you, by going through the body shapes, giving you some basic guidelines and then giving you the catalogue link at the end, so you can go directly to the stores that have the right shape for you.
The Slim/Athletic Body Shape
The first shape we'll look at is the Slim/Athletic.  This is the body shape of most of the catwalk models, as it's the shape designers find easiest to use, because most clothes look good on the Slim/Athletic.
So in theory any shape of jeans will work well, right?  Well not quite, because the thing with this body shape is that mostly women prefer to have some shape as it adds femininity.  
Now this doesn't apply to everybody and I wouldn't want to assume every woman with a Slim/Athletic shape wants to change it.  So if you have this body shape and you're happy with your long lean look, then you can wear pretty much any shape of jeans you choose.
If however, you'd prefer to add a bit of shapeliness and femininity to your look then these guidelines will help.
We want to play up your best assets and give you a curvier shape, so skinny or super skinny jeans will hug your body tightly and give some shape to your silhouette.  The super slim tapered ankles will show off and give shape to your legs, creating a softer, curvier line.
If you want to take that a step further, boyfriend jeans will give you even more shape, as they will give the appearance of curvier hips.  Make sure they're not too baggy though or they will just swamp your slender frame.
To give the appearance of a fuller bottom, go for jeans with back pockets, preferably with a flap on the pocket.  Again a word of caution, be careful that the pockets don't go too far down towards the thighs as it will make your bottom look saggy…and nobody wants a saggy bottom!
In terms of the rise, you will look better in lower-rise jeans as this will give additional shape to your hips or bottom.  High waists will not look so flattering as they will swamp your frame and not accentuate your hips.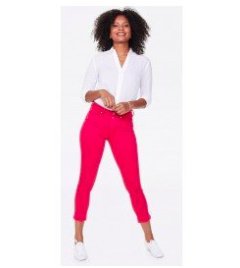 A Pear shape tends to be slim above the waist and fuller in the hips and thighs.  So we want to elongate your legs and create a long continuous line from your hips to your feet.
You will also want to make sure there are no extra details around your hips and bottom, so no side pockets or back pockets with flaps.  You want your jeans to be as smooth as possible around this area.
The best type of jeans for you will be the sophisticated, more tailored styles.  These will have a good waistband, they will need to fit snugly around your bottom and will have wider legs to create balance with your hips.  The great thing about the more tailored styles of jeans is that they can easily be dressed up for smarter occasions.  For some people tailored jeans may even be suitable for wearing for work or business, depending on your situation.   Tailored jeans can then be styled down for more casual wear, making them work better for your.
Skinny jeans are not the most flattering for you as they will accentuate your hips and thighs.  If you love the look of skinny jeans there are a couple of things you can do to fake it!  You can wear straight leg jeans as these will give that skinnier look, or in the winter you can wear skinny jeans but with knee length boots which will give you a more balanced silhouette.
Darker wash denim or darker colours of jeans will be more flattering for you than the paler washes.  Keep your lighter, brighter colours for your top half.
Also bigger pockets will be more flattering for you than smaller pockets, as smaller pockets will visually make your bottom look bigger.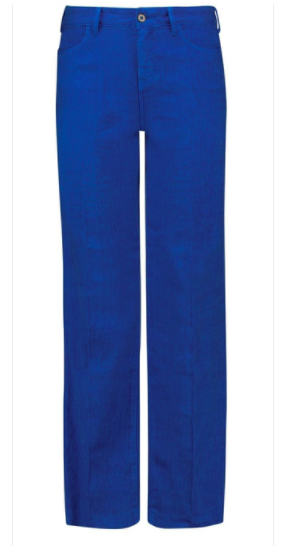 If you have an hourglass figure you will have curvier bust and hips and a smaller, well-defined waist.  You want to show off your best assets, so you will need to make sure your jeans fit well on your waist, and are made with stretch denim to smooth your body's lines and move with you.  The stretch will also help to avoid gaping at the back waist.
You will need to go for the higher waisted styles to ensure a smooth line over your hips and bottom.
The best shape of jeans for you is bootcut or flared styles, as these will fit snuggly around your hips and thighs and then flare out from the knee towards the hem, which will balance beautifully with your curvy silhouette.
If you want to elongate your legs, make sure the legs are long enough to go down over your shoes.  This may mean you need different pairs of jeans for wearing with heels for smarter wear, or flats for more casual occasions.
If you love the look of skinny jeans, try a straight cut instead, or wear the skinny styles with knee length boots to give that balance with your curvier hips.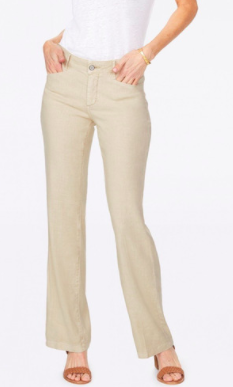 Apple shaped women are larger on the upper half of the body and any weight gain tends to settle around the middle.
The great thing about this shape is that you are slimmer in the hips and bottom and will have lovely lean thighs and shapely legs.
The most important thing for you with your jeans is to get the rise right, or in other words, where the waistband sits on your tummy.
A low-rise jean can have the effect of causing a "muffin top" spilling over the top of the jeans which won't be very flattering.  On the other hand, a high waist can also accentuate your tummy rather than smoothing over it.
Your best option is a mid-rise jean which will sit across your belly-button or just below it.  This will hold everything nicely in place and give you a smooth waistline.  Take the time to make sure the waistline fits you well, and doesn't squeeze you too tightly as this will be uncomfortable.
Heavier denim fabrics will work really well for you as they will hold everything in place and give you very smooth lines.
Also jeans that are more tailored and trouser like will be really flattering for you.  The wider waistband will hold your tummy neatly and the wider leg will provide balance with your top half.
The great thing about this style is that it can look very smart and sophisticated so can even be dressed up for work or smarter social events.  A darker denim will also help you to have that more elegant sophisticated look.
If you have a flatter bottom, look for styles that have back flap pockets or embellishments on the pockets as this will have the effect of boosting your bottom.
The current trend for skinny jeans is great for you as these will show off your narrow hips and long shapely legs.  Choose a darker wash to minimise your middle.
Also the trendy distressed skinny jeans will also look great as again they will accentuate your lovely legs.
If you are worried about your tummy in jeans, simply wear your jeans with a flowy tunic top.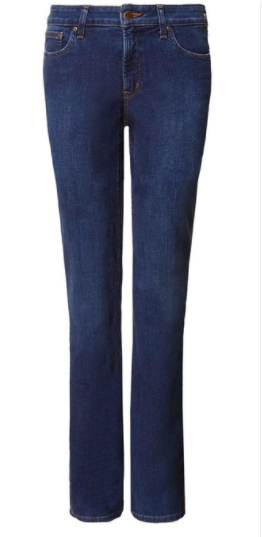 The Strawberry Body Shape
The beautiful Strawberry shape is the envy of many less curvy women.  This shape has wider shoulders than hips, a fuller bust and amazing legs.
The aim of dressing with this body shape is to create balance between your fuller top half and your bottom half, and to create some definition at your waist, to give you a curvier look.
You should wear darker colours on your top half, and keep all your bright colours and patterns to your bottom half, to create more balance in your figure and to draw the eye down.
So in terms of jeans, you can go to town on bright, colourful or patterned jeans, and you will look amazing!
You always have the choice of pretty much any style of jeans.  Skinny and super skinny will show off your gorgeous shapely legs, and you can accentuate them even further by wearing your skinny's with a heel.
If you want to go for a slightly smarter look and create more balance in your figure at the same time, choose a straight or flared jean to bring balance with your top half.
You can go for any rise in your jeans.  But a particularly flattering look can be a low to mid-rise with a belt and a top loosely tucked into the front of the belt.  The belt will draw attention to your narrowest part, your hips, and so give your very flattering look.
Add in a straight or slightly boot cut to your jeans, and wear with heels and you will be the envy of every woman in the room!
The key to making your jeans the star of the show, is to keep your top half very simple.  A cute white or cream top, with a longline necklace, and you're set for pretty much any occasion!