Is a Style Subscription Box going to give you the
results you want, or would you be better
working with a Personal Stylist?
Fashion or Style subscription Boxes are all the rage at the moment, and there are a selection to choose from wherever you happen to be in the world.
So are they a good idea?
Well, I wanted to find out so I subscribed to two of them for a period of 8 months.
Here are the advantages and disadvantages of Fashion subscription boxes I found during my trialling of the two boxes:
Advantages of a Style Subscription Box:
If you don't particularly like shopping, a subscription box can be a godsend, as you literally have a selection of clothing delivered to your door every month.
You can try on the garments in the comfort of your own home rather than an uncomfortable store fitting room.  This means that if you want to try a garment with something you already own, you can.
You can also make sure you can style a garment in a way you would like, before you make the decision to buy or not.
3. You'll be exposed to different ideas.
A Stylist will pick items for you that you may never think to try on yourself.  They could choose different fabrics, colours, styles  or brands that you have never considered before, and you may find something that is quite flattering.
Every month you will have a new selection of garments sent to you.  Because of this you could find your wardrobe is kept nicely up to date, in a way that it isn't usually.
Disadvantages of a Style Subscription Box:
1. Your Subscription Box Stylist doesn't know much about you.
Your Subscription Box Stylist will have some basic information about you and will select items for you based on the questions you answered when you signed up. 
However, your Stylist won't know things like your colouring, your personality, or much about what your business and lifestyle needs.  So the items you receive can be a bit random and not really you.
You may find you are charged a "Styling fee" whether you like any of the items or not.  So while you may find that some of the boxes have items you like, you may equally have some boxes that have nothing that suits you, but you will still have to pay.
3. Risk of forgetting or not returning on time.
Although during my trial I made sure I sent the items back in plenty of time, it would be incredibly easy to forget and then have to buy all the items whether or not you like them.
One of the boxes I subscribed to offered a discount if I kept all the items.  It would be very easy to think that you'll keep them all to get the discount and convince yourself that you will wear them all.  Chances are you probably won't if they're not really "you".
My Experience with Style Subscription Boxes
I was extremely honest about filling in the questions when I first signed up as I wanted it to be a really fair trial experience.
However, during the 8 months I received the boxes, I only kept 3 of the items.
Very few of the items were suited to my colouring.  Now obviously I know my best colour palette, so if you haven't had your colours analysed you might be happy to try more colours.  But I didn't find many of them were suitable for me.
The biggest problem I found with the vast majority of the garments were that they were pretty loose and shapeless.  I can understand this if the person picking the items doesn't know much about my body shape…loose shapeless items are much more likely to fit than close-fitting garments.  But I needed more shape in my garments.
I also found nearly all the garments were very casual.  Although I like to have quite a few casual garments in my wardrobe, it would have been nice to have some smarter options sent to me.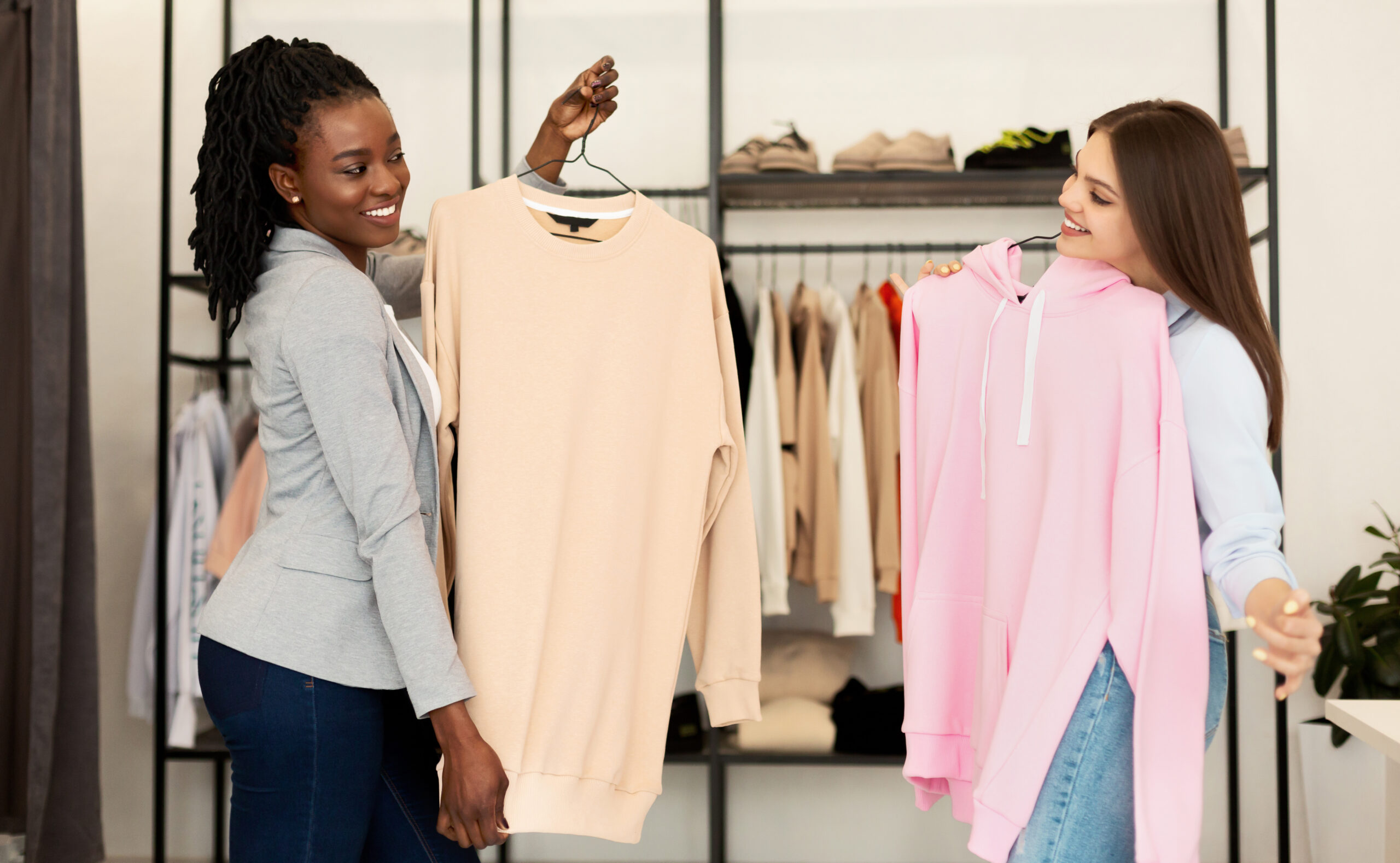 How Does A Subscription Box Compare To Working With A Stylist?
Working with a Personal Stylist, or Personal Style Coach is a very different experience.
Advantages of working with a Personal Stylist.
The Personal Stylist will take their time to find out as much as they can about you, your current style, and your future style needs.
They may also do a Colour Analysis to find out the best colours for your complexion.  This then means that they will only select colours that will flatter you and make sure you shine.
Depending on how you and the Stylist choose to work, you may have to go to a shopping mall to find garments and try them on, or the Stylist may shop for you virtually and have the garments sent to your home to try on.
There is very little risk of not sending unwanted items back, as the Stylist will take care of most of that for you.  
There is also very little risk of overbuying as the Stylist will usually not have any affiliations with particular brands, so will only be interested in finding items that you love and will wear.  They will also help you style the garments you buy, to ensure you do wear them and get the most from them.
If a Stylist does find items for you, that you then say you are not keen on, they will work with you until they find garments and looks that you do love.  It is a collaborative process, which means you will have better results overall.
Disadvantages of working with a Personal Stylist.
It will cost more than a subscription box as you will be paying for the Stylists time and expertise.  But as stated above in the advantages, you are far more likely to love the items and wear them, so this offsets some of the cost.
You may end up spending more time with the Stylist than you would with the subscription box option, as the Stylist will need to work with you to make sure they get it right for you.  Again though, this investment of time is offset by the fact that you will end up with a much better result.
In my opinion it is always better to invest in yourself and create the best wardrobe you can.
Working with a Personal Stylist is far more likely to give you the results you want than a subscription box.
Subscription boxes do have a place.  In my opinion they are good if you want a quick injection of some new pieces and are probably better for your home life rather than business.
However, if you want to create a wardrobe that is going to supply everything you need, and be perfectly suited to you, your preferences, your taste and your life and business needs, working with a Personal Stylist or Personal Style Coach is definitely your best option.
The best way to decide which is the right way forward for you is to talk to somebody who can help.
If you'd like to chat through your dreams and goals for your wardrobe, and find out your options for achieving your goals, book in a time in my diary to talk.
We can go through your options and if I can't help, I will point you in the right direction to find somebody who can.
I look forward to chatting with you.