Do you need or want to wear flat shoes in your business or work situation?
Maybe you have a medical condition that makes heels impossible?
Or perhaps your work involves lugging equipment around? Or being on your feet for hours at a time, and you need to be comfortable.
Are you bored with wearing the same old Ballerina's that make you feel boring and frumpy?
Have you found it impossible to find flats that are comfortable, but still look stylish and professional?
Well, I have good news for you!
There are a whole load of flat shoes in the shops right now, that are both stylish and comfortable. And they come in a range of prices to suit all budgets.
I get it!  I know how wearing heels can leave your feet feeling very sorry for themselves after a very short period of time.
But take heart! I have done the legwork for you and found a huge range of flats in different styles, colours and budgets. So there's something to satisfy any flat shoe situation you may have.
Brogues and Oxfords

Let's start off with the more traiditional look of a Brogue or Oxford shoe. These styles are extremely comfortable and easy to wear. They usually lace up so you don't have to worry about them slipping. It also means you can wear them with socks to make them even more comfortable. Brogues and Oxfords look particularly good with smart trousers or skirts. These styles are ideal if you have to be on your feet all day but still look smart and professional.
They would be ideal for setting up or working at any sort of trade show or exhibition. Or maybe as a photographer when you need to be thinking about other much more important things, and not worrying about your feet!
Shoes Designed for Practicality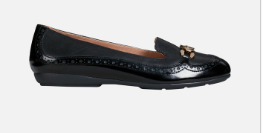 There are also shoes available that are designed for practicality, but maybe are not quite so stylish. Clarks and Geox have good ranges in these shoes, some of which are designed to be breathable as well as comfortable.
These are great for when the look is not as important as the comfort. Perhaps when you are setting up for an event, but then you change into something more stylish when you are meeting with people. And then back in your comfy's later on.
Loafers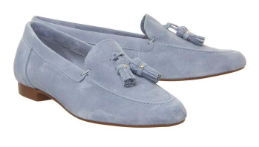 There is a huge variety of Loafers out there in the shops at the moment, in loads of different styles and colours.  So you never need to feel boring in your flats again!
Loafers always look smart, with trousers, skirts, dresses, basically anything you want to wear them with. They also come full bodied, or backless. sling backs and sometimes with a decorative bar across the top of the foot.
Although Loafers look very stylish and are reasonably comfortable, they are not going to be as comfortable as the shoes designed for practicality or even the Oxfords and Brogues. But they will take you to any number of events and occasions and will always look great.
Ballerinas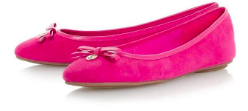 Ballerinas can feel boring and frumpy because they have been worn so much that they are a bit old hat. However, there are so many different styles and colours, with various decorations on them, that they really don't need to be boring or frumpy!
A word of caution with Ballerina flats though, and that is that they are not particularly good for you if you wear them for long periods of time. I'm not an expert but I have been told that they do not have enough support under the foot, and so they can cause damage to the back and hips if they are worn extensively.
If you do choose to wear Ballerinas, maybe try to go for the ones that have a very small heel, rather than the completely flat options, as the small heel will give you a little bit of support.
If you just want something comfy, easy to wear and that look OK, then Ballerina's are fine. However with so many other more stylish options around, it would probably be wise to try something different.
Mules or Slippers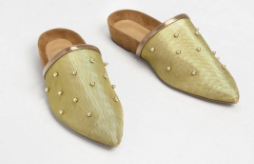 Similar to Loafers, Mules or Slippers are usually quite smart looking and reasonably comfortable. However they are not going to be the best for you if your work involves a lot of walking.
Keeping Mules, or any backless shoe on, takes quite a lot of effort from the muscles in your feet and the bottom half of your leg. So they can be tiring on the legs if you are walking a lot.
However, if you are just standing or sitting a lot, there are some fantastically stylish designs around. So have some fun with your Mules and find something different that maybe helps you to stand out a little.
I found some fantastic, fun and bold designs when I was doing my research for this post. You can see them all via this link: https://hueandstripe.com/catalog/586H&SbYGN
Mary Janes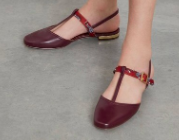 Another variety of flats that you may not have considered are Mary Janes. These shoes have some sort of T-bar down the middle of the foot, and so can really stand out. They are probably not the most comfortable shoes ever, but they will look amazing, and you are sure you attract some comments wearing these!
They may be best kept for days sitting at your desk, with maybe some meetings thrown in, where you can show off your very stylish feet!
I have put together a whole catalogue of my favourite designs that are available in the shops at the moment (Spring/Summer 19)
Click here to go to the catalogue. They are arranged in three price brackets: Affordable, Mid-Range and Luxury and you can go directly to the store to purchase any of them, by clicking on the picture.
Have fun experimenting with different flat shoes! And do let me know how you get on, and how much better you feel wearing some stylish flats that are still comfortable!