Classic English/American Female Shape
A Pear Shape is a curvy figure with a small bust, well defined and small waist, and bigger thighs and bottom.  
If you are a Pear Shape, you have probably spent most of your life trying to hide your bottom half as this is probably the area you most dislike.
However, there are some beautiful shapes and styles of clothes that look absolutely stunning on a Pear Shape
The Best Shapes For A Pear
In this blog post I am going to share with you the best shapes of the most common garments to make the most of your assets, and disguise your less liked areas!
If you are not sure which body shape you are, click the button below to go through my body shape guide first, to make sure you are getting the correct information for you.

The Pear Shape has a beautiful slim neck, shapely shoulders and well defined waist, so these are the areas to draw the eye to, through the clever use of clothing.  We also want to choose clothing that will skim over the lower half, rather than cling to and accentuate the areas you would rather not emphasise.
You will have some qualities that are the envy of the other body shapes.  Your smaller bust means you will look lovely in delicate, strappy tops. You arms are usually toned and shapely and will probably stay this way most of your life.  No bingo wings for you! You will most likely have an enviably flat stomach, which is something a lot of women dream of.
So there are lots of things to celebrate and be proud of as a Pear Shape.
Let's have a look at the specifics.
As its your top half that you want to accentuate and draw the eye to, the first step is to make sure you are wearing a good, well-fitting bra.  We want to make the most of your assets, so it may be worth trying a padded bra to add shape and fullness to the bust.  
A general tip for all body shapes is to wear the best bra you can afford, as good foundations will ensure your clothing looks as good as it can.
We want to keep the attention on your top half, so the main thing with your Jackets and Coats is to make sure they have lapels and a wide open neckline.  This will help to balance with your lower half.
Any details on the sleeves and shoulders will help keep the eye up top, so puffed sleeved, gathered shoulder, epaulettes and big lapels will all keep the attention where you want it.
Double breasted styles help to increase width above the waist so these will be better for you than single breasted.
Funnel necks and other high necks will add inches around the bust so again will give balance to your overall appearance.
Jackets should always finish at the waistline to highlight the slender waist of the Pear Shape and a belted style will really focus on and show off your fabulous waist.
Jackets that finish at the hip will make your hips look wider than they are, so it's always best to have your jacket finish just below your waist.  And remember to always make sure your Jackets have a defined waist.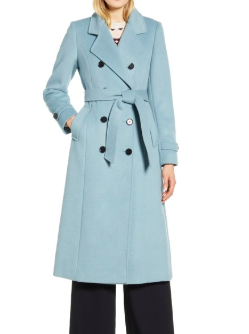 You want to try to widen the appearance of your shoulders to balance with your hips.  So open necklines such as boat necks, slash necks and wide but not too low v-necks are best for you.
Any embellishments on your sleeves or shoulders will also give the illusion of wider shoulders which again will bring balance.
Narrow horizontal stripes on a top will give you the appearance of being much more curvy and again this is something that not many body shapes can wear.
Tops in pretty delicate fabrics will add femininity to your small top half, so these may work better for you than traditional cottons.
Tops that have narrow necklines such as narrow v-necks, dolman sleeves, raglan sleeves and anything heavily gathered at the neckline will give an unbalanced appearance to your silhouette so are best avoided.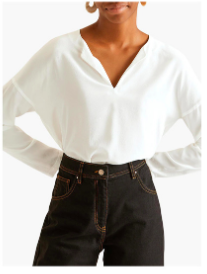 Dress shapes to show off your best features will accentuate your slender waist and skim over your hips and bottom.  So straight cut dresses that hide your beautiful waistline will not be your best shape.
You may find you have a high waist, so wherever the smallest part of your waist is, will be the area that you to show off.
So dresses that cinch in around your narrow waist are great for you, and 50's full skirted styles will absolutely stunning!
Empire line dresses will also look good as they will come in just under the bust which is often the slimmest part of your body.
Wrap dresses are fab for you, but make sure they are not in a jersey or clingy fabric as this will stick to your thighs and bottom in an unflattering way.
The skirt of the dress should always be at least A-line, but may be even fuller than that, so as to skim over your lower half.
The bodice of the dress should show off your shapely top half, so can be fitted and can have embellishments on the shoulders or sleeves.
It will ideally have a wide neckline, like the boat neck or slash neck mentioned for your tops.  Off the shoulder tops will look amazing as well, as they will elongate your shoulders and give a great balance with your lower half.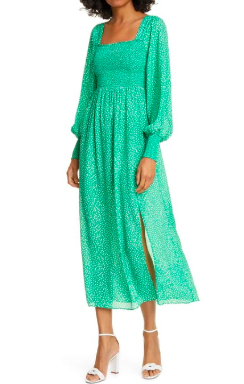 As a Pear Shape, you should always wear A-line or fuller skirts, that skim over your hips and bottom.  Soft fabrics will be particularly flattering as they will move beautifully with your body shape.
Skirts should always be fitted at the waist to show off your shapely waistline.
Clingy, jersey or bias cut skirts will not be flattering as they will cling to and accentuate the disproportion between your top and bottom halves.
It's also best to avoid any side pockets or other details that will draw attention to your hips.  Keep all details and decorations on the top half to keep the attention where you want it.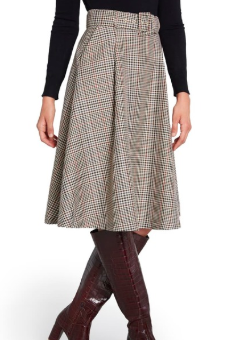 Wider leg or straight leg trousers are the best for a Pear Shape as they will create balance to your silhouette.  Again, as with your skirts, make sure they are fitted at the waist to show off your smallest area.
Avoid side pockets as these will make your hips look wider, and flat fronted is best as it will slim down your bottom half.
Skinny fits and slim fits in jeans and trousers can be tricky for you as they will accentuate your curvy hips and bottom.  You may quite like this and it's fine if you do. But if you prefer not to show off your curvy area, it's best to wear skinny and slim fits with a knee length boot to widen your lower legs and add a bit more balance to your overall look.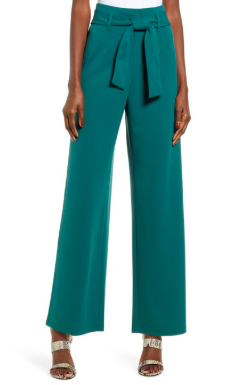 Heels will help to slim and balance your legs, and a straight heel will be the best for you.  Stilettos will look too delicate and may make you look unbalanced, so try to find slightly chunkier heels as they will be better for your overall look.
As a Pear Shape you can have a lot of fun with accessories as they will almost always draw the eye upwards which is what you want.
Belts will always look good as they will show off your beautiful shapely waist.  As a general rule, any size of belt will look good as it will always accentuate your shapely waist.
Necklaces, earrings and scarves will always look good as they will draw the attention to your best features and away for the areas you would rather not be noticed.
So look out for chunky, colourful necklaces and earrings and any bling or sparkle that you fancy trying!
Scarves in various colours and patterns are also good for focusing the eye on the top half.
Colour, Pattern & Fabrics
Darker colours have a slimming effect, so wear these on your bottom half, and wear bright and light colours on your top half to encourage the eye to your top half.
Pattern has the effect of confusing the eye and diffusing attention from areas that you want to disguise.   So wear patterned, darker fabrics on your bottom half.
Softer fabrics that drape and move with you will be much more sympathetic with the curves of your lower half.  Stiffer fabrics will not mould well, so will give the appearance of being ill-fitting and uncomfortable.
Vertical patterns are also great on your bottom half, as they will lengthen and slim your silhouette.
Shiny fabrics and sequins add inches, so keep these to your top half.
So there you have a full run down of the best shapes of each of the most common types of clothing to suit your Pear Shape.
Was there anything there that surprised you or you hadn't heard of before?  Is there anything you will do differently as a result of reading this blog post?  Do you think these suggestions will give you more confidence in dressing to flatter your body shape?
I've created a catalogue for you with some of the current styles of clothing that will work well for you.  Click the button below to see all of the Pear body shape styles: